Stoney Lake Bible Camp - Offering a professionally run camping program to North East Saskatchewan - since 1957
| | | |
| --- | --- | --- |
| Preparing for Camp | | |
So you have registered for camp and you aren't quite sure how to prepare for your big week? Well we are here to help you out! This page should tell you everything you need to know about preparing for and getting to camp!
What Should I Bring?
Sleeping Bag, Notebook, Bathing Suit, Several Changes of Clothes, Extra Shoes, Toiletries, Bug Spray, Sunscreen, Rain Gear, Pillow, Bible, Pen, Towel, Hat and Jacket! It is a good idea to mark your belongings with your name! Please come prepared to pay the remainder of your registration fee (if you have not already) as well as put some money aside for the Tuck Shop (canteen) and buy a T-Shirt, a Waterbottle or Pre-Order your weekly Highlight DVD!
What Should I Leave at Home?
You won't need your Ipod, Cell Phones (there is no Cell coverage at Camp anyway), Video Cameras or Laptops (If you bring them we will keep them in the office). Small electronics tend to get lost at camp, so avoid this problem by leaving them at home. Do not bring any Restricted Substances (drugs, alcohol) as doing so will get you sent home immediately.
How do I get to Stoney?
Our Google Location is 52.587-104.201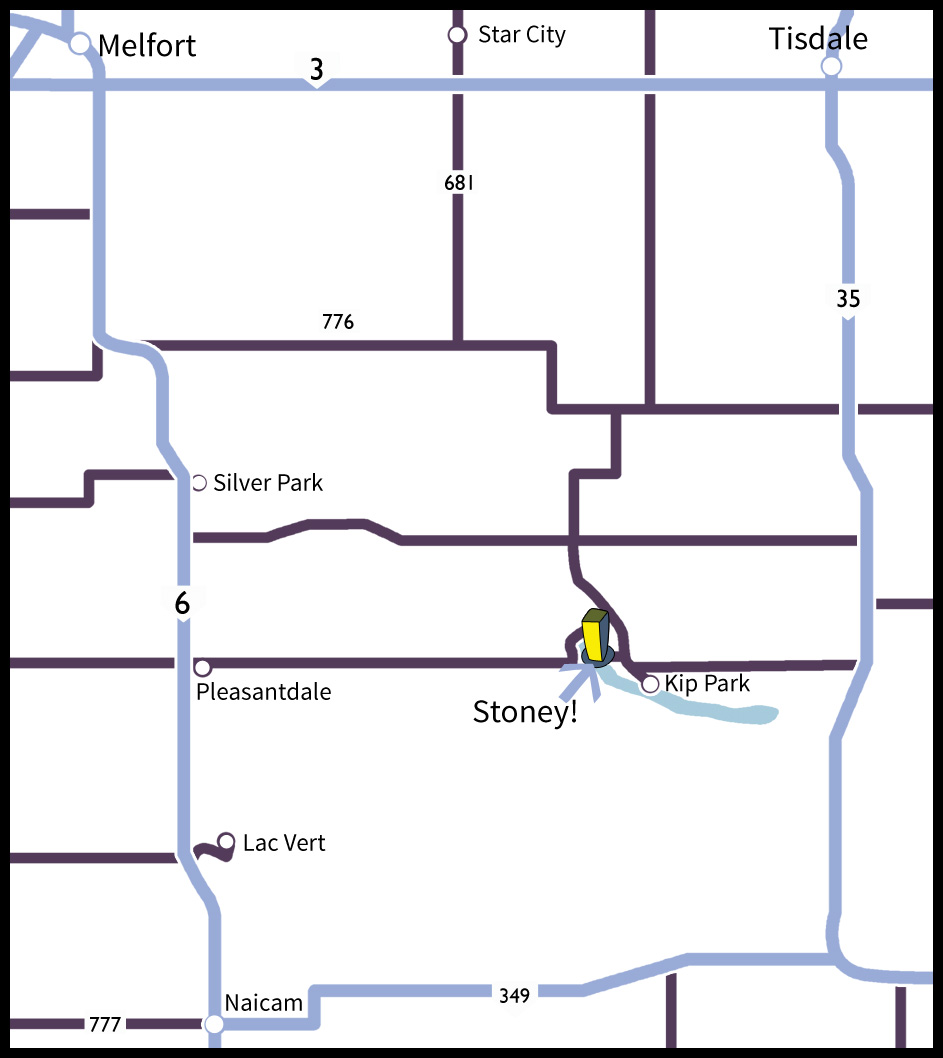 When Should I Arrive?
Camp registration begins at 3:30PM and goes until 5:30PM on the day your camp is scheuled to begin!
What Can I Expect When I Arrive?
When you get to Stoney you will be directed to park your vehicle in our playing field. From there you will be shuttled up to the cabins, at this time you will go to the cabin that you have been assigned to for your week at camp, meet your Cabin Leader and drop off your bags! From there you head over to the Dining Hall which is where registration takes place. At this time you will pay for camp, and buy any of the items that you wish too (T-Shirts, Waterbottles or DVDs) and turn in your Tuck spending money! You are now able to pay by Debit or Credit Card at Registration!
Our Camp program begins at 5:30PM!
What Happens When the Week is Over?
Our closing program is at 7:00PM on the scheduled final day. All of your family is welcome to join us in the Chapel for this program. The Tuck Shop will be open for you to buy some candy one last time, or get that T-Shirt, Waterbottle or DVD you didn't get at the beginning of the week! Once our closing program has ended you are free to go!
What if I Have Questions?
Call us at 1-306-873-5537 we will be happy to help you out!
Latest News

Contact Us

Questions? Comments?
Contact Us


Phone: 1-306-873-5537
Fax: 1-306-873-2277

Address: Box 3717
Melfort Sk. S0E 1A0